Black mini backpack for any occasions.
Material: Cotton, nettle and suede leather.
Size: 7.8" x 3.5" x 9" ; 20 x 9 x 23 cm
Weight: Approx. 0.8 lbs ; 360 g
Origin: Handmade in Nepal
This cute black mini backpack is a wonderful fusion of traditional weaving with modern style. It is handmade ethically by a social enterprise called WOVEN in Nepal. The mini backpack is in natural earthy beige color made of allo jute with real suede leather base, trim and straps. The small pocket in front of the bag is made of recycled cotton thread left over from making other fabrics.
 
A wonderful all around black mini backpack. Ideal for any occasions.
What is recycled fabric?
Originally used for reducing waste, recycled fabric uses left over cotton thread from the process of making other fabrics.

Product care
Hand wash only with cold soap water. Left to line dry.
 
About Woven Nepal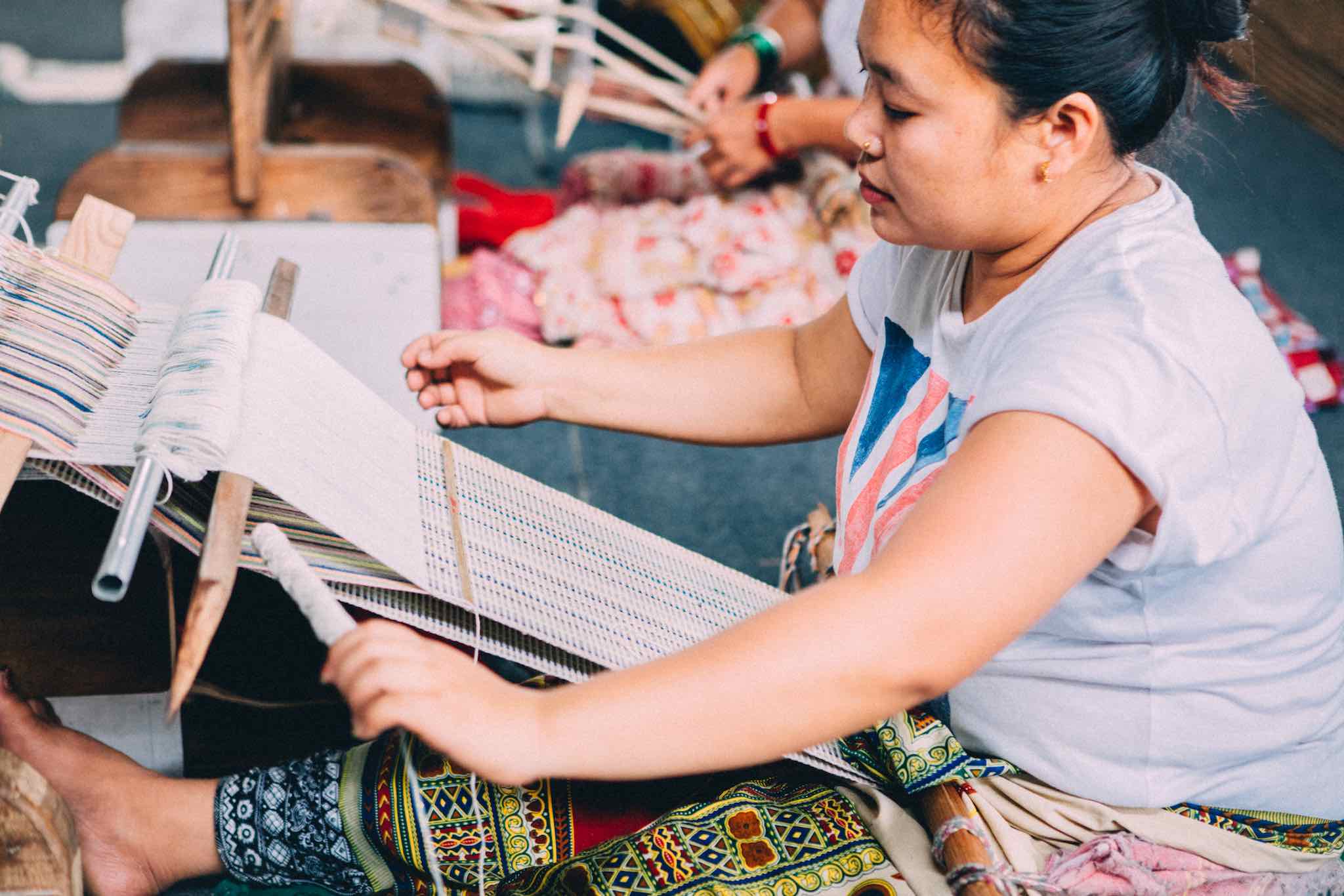 Female artisans in Woven studio in Pokhara, Nepal.
WOVEN is a young brand from Nepal established in 2016, which produces high-quality, hand-woven bags based on fair trade regulations and campaigns for socially and economically disadvantaged women in rural Nepal.
 
Being inspired by the founder's mother Ramkali Khada and her work in WSDO (Women's Skill Development Organization). After working there for 10 years, the founder Anup made up his mind to start something that would help empower women as his mother did.

WOVEN aims to empower economically marginalized women by providing vocational skill training and job opportunities, supporting them to become self supportive.
 
Furthermore, WOVEN aims to have a minimal negative impact on the local environment by using locally resourced materials as much as possible.

All of WOVEN products are handmade in Nepal. The cotton fabrics are sourced from the WSDO; while the nettle fabric comes from a women's cooperative in Salija Village.
 
Nowadays, WOVEN provides more than 25 job opportunities for women to hand assemble the bags from WSDO fabric and supports them to become self-sufficient.